Master Hong Choon 宏船老和尚
宏船老和尚
The Late Venerable Seck Hong Choon
~ 1907 – 25 Dec 1990 ~
A Man of Humility
Born in Xiahu village, Jinjiang in the southern Chinese province of Fujian, Venerable Seck Hong Choon came to Singapore in the late 1930s. He decided to make Singapore home because "the climate and situation suited my physical and spiritual needs". Acknowledged by Chinese Buddhists in Singapore as their highest religious leader, he was also held in high esteem by Buddhists of other countries, including Thailand and Sri Lanka.
Venerable Hong Choon was concurrently the honorary president of several Buddhist temples in Singapore at that time, as well as temples in the Philippines, Thailand, Malaysia and mainland China, a testament of the great respect that people paid to him. However it was his humility more than anything else that endeared him to Buddhists and non-Buddhists alike, a humility born from his upbringing and religious discipline.
Early Life
His father, Zhu Zanjia and mother, Li Wangniang were both from well-off peasant families in Jinjiang and Venerable Hong Choon was their only son in a family of six. He was the favourite child in the family and was given loving attention and care despite his mother's early death when he was nine. Initially he received his education at home. However, he was later sent to a private school in his aunt's village to learn Chinese classical literature.
Teenage Years
At 14, Venerable Hong Choon became a vegetarian under the influence of his grandmother and aunt. A serious young man, he was very conscious of the importance of social service. At 16, he decided to become a Buddhist monk, and took Venerable Seck Hui Quan as his master. That proved to be the turning point in his life. He devoted himself to the serious study of Buddhism and the teachings of the Vinaya School in Guang Hua Temple in Putian.
When he was 18, Venerable Hong Choon followed his master to Nan Pu Tuo Temple in Xiamen which broadened his outlook and made him even more diligent in his study and practice. He had the opportunity to meet Venerable Taixu and for three years, studied under the latter, specialising in two Buddhist Sutras – the Vidyamathnsiddhi-Tridasakarika sastra and Vijnaptimatrasiddhi sastra.
World War II
Venerable Hong Choon's studies were interrupted by World War II with the Japanese invasion of China. He fled south with his master and came to Singapore in the late 1930s. They stayed at Long Sun See Temple and Kong Meng San Phor Kark See Monastery which was then a simple structure with just one prayer hall.
Six months later they went to Rangoon (known today as Yangon) where they stayed for three months. They then left for Medan, Indonesia and later settled down at Meow Sian Lin Temple in Penang.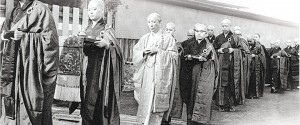 Coming to Singapore
His master died in Penang but Venerable Hong Choon, who spent three years and eight months in total there, was invited by the Singapore Buddhist Lodge, Pu Tuo Temple and the Chinese Buddhist Association to come to Singapore and take charge of the Kong Meng San Phor Kark See Monastery.
The monastery at that time had only two shrine halls and a plot of farm land. Venerable Hong Choon set out to organise things in the monastery. He gathered fellow monks to grow groundnuts, sweet potatoes and sugarcane on the farm, and started expounding the Buddha-Dharma at the same time. His erudition attracted many to the monastery. He lectured on the Sutras, drawing a widening circle of disciples all the while. His lectures also took him to the then-Malaya.

His Contribution to Singapore's Buddhist Community
In the early 1970s, Venerable Hong Choon organised the first Great Compassion Prayer. Despite the difficulties, he took steps to expand the monastery, adding a crematorium, a Hall of Great Compassion, a Hall of Ambrosia Precepts and a Dharma Hall.
Under Venerable Hong Choon, many amenities were added on the nearly 22-acre monastery site, including a welfare home for the aged, Bright Hill Evergreen Home in the 1980s. (The Home is presently located at Punggol Field.) His services to Buddhism were recognised not only in Singapore but also in Southeast Asia.
As a tribute for his contributions to Buddhism, Venerable Hong Choon was conferred the title "Supreme Chinese Monk" by the Thai King in late 1987. He was the first monk in Singapore to receive such an honour from the Thai King. Venerable Hong Choon was also a strong advocator and driving force for world peace and religious unity. He founded Singapore's Inter-Religious Organisation (IRO) in 1949 and played an important role in seeing that IRO programmes run without hitches.
Demise
On 25 December 1990, Singapore lost one of her most highly regarded monks of our time when Venerable Hong Choon passed on at the age of 84. His grand funeral procession was attended by nearly 200,000 people from all over the world.
一位谦卑的人
宏船老和尚出生于中国南方福建省,晋江县霞福村,他于1930年来到新加坡,决定留足新加坡的原因是因为这里的"风土人情、景遇都适合我的心灵所须"。他当时是中国佛教界公认的德高望重的高僧,也备受其他国家佛教徒所敬仰,包括泰国和斯里兰卡。宏船老和尚当时除了担任新加坡众多佛教寺院的名誉主席,同时也出任菲律宾、泰国、马来西亚与中国大陆等国佛寺的重要职务。
早期生活
宏船老和尚俗姓朱,名成基;父亲朱簪甲,母亲李旺娘。生长在晋江的富裕务农家庭,宏老是他们的独苗。尽管在9岁时失去母爱,他在家中仍被宠爱照顾。最初在家里私塾受教育,过后到新店村姥姥家学习古典文学。

青少年期
在14岁时,宏老受外婆及姨妈的影响,成为茹素、敦厚老实的青年,而且非常注重社会公益服务的重要性。16岁时,他决定出家为僧,依止会泉老法师剃度。这成为他一生的转捩点,献身佛教认真学习,并在翌年赴莆田广化寺依本如老和尚受具足戒。
18岁时,宏老随师父至厦门南普陀寺,进一步扩大视野,激励他勤勉地修习实践,并有机缘遇到太虚大师,以三年的时间专修《唯识三十颂》 和《唯识二十颂》。
世界第二次大战
1930年末,因受世界第二次大战以及日本入侵中国的影响, 宏老随师父南逃到新加坡,并逗留在龙山寺和光明山普觉禅寺简陋的殿堂。六个月后,他们抵达缅甸仰光,逗留了三个月。之后到达印度尼西亚的棉兰,稍后再安顿在槟城妙香林寺。
抵达新加坡
宏老的师父在槟城圆寂,宏老花了三年八个月待在那儿。过后,他受邀到新加坡居士林、普陀寺、中华佛教会,最后驻足在光明山普觉禅寺。当时,光明山普觉禅寺只有两间殿堂及一小块田地,宏老亲自整顿寺院。他召集僧众们种植花生、番薯和甘蔗。他也开始讲经说法;他的学识渊博,吸引众多信众到寺院来。他讲解经典,广结善缘;与此同时,他开坛说法,轰动当时的马来亚。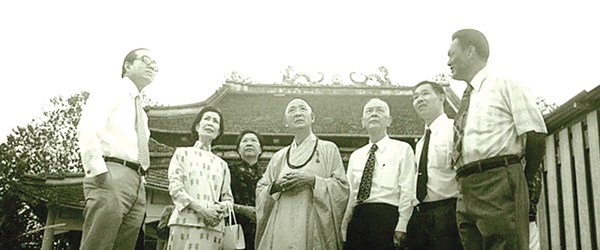 他对新加坡佛教界的贡献
七十年代初期,宏老创办了第一次大悲法会。尽管困难重重,他按部就班地扩展寺院、增建火化场、大悲殿、甘露戒堂和藏经楼。
在宏老努力的发展下,很多设施建设,添加在接近22英亩的寺院场所,其中包括一所收留贫困病弱老人的"光明山修身院",它兴建于1980年,但现已迁移至榜鹅区。他对佛教、社会的贡献,除了在新加坡备受社会各界敬仰外,也享誉东南亚。
为了表彰他对佛教的付出与贡献,1987年泰皇钦封"华僧大尊长"最高荣誉予他。他是新加坡第一位受泰皇钦封此最高荣誉的僧人。宏老也致力于提倡并推动世界和平与宗教和谐团结。早在1949年他就发起创立新加坡宗教联谊会(IRO);在IRO的周全规划中看得出老和尚的远见,这对以后的发展起着重要作用。
示寂
1990年12月25日,新加坡痛失深受社会各界敬仰的高僧。宏船老和尚舍报西归,世寿84岁。举殡大礼时,前来瞻仰礼拜者,来自世界各地近20万人。