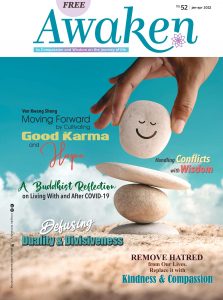 As the Covid-19 pandemic continues into 2022, more and more people are experiencing a divided world with increasing disconnectedness.
In such times, we must be mindful of our own aversion and social discrimination of others.
All humans, regardless of gender, age, creed, race and religion, seek the same goal: to be happy, at peace, safe and well.
The three poisons of attachment, anger and ignorance also prevent us from seeing our true nature and realising the emptiness of inherent existence.
Compassion always makes the world a better place.
Download Awaken PDF file: English